Robert Vallelunga
Organ (1965 – 1967)
Memories of the Nitecaps
As I think back on my time as a member of the Nitecaps, I have only positive memories of the band, its members and related events. Being in the band became a lifestyle for me. Between rehearsals during the week and playing gigs every weekend, my time away from school was filled with band activities. My fellow band members became my best friends at that time and to this day I continue to share close friendships with some of them.
There was always an excitement that existed for me when we were setting up our equipment and getting ready for a performance. We played many different types of gigs including school dances, county fairs, military bases and the Santa Clara Youth Village (also known as the Wutzit). Wutzit was probably the place that was the most thrilling to play. Students from many Santa Clara County high schools would attend and there would always be a full house of about 1,000 people in attendance. The building had a large stage with heavy dark stage curtains and I can still remember the feeling of exhilaration when the curtains would open and we began to play.
It's difficult to describe, but when I reflect on being in the Nitecaps, the joyful feelings return and seem fresh again. Although it has been many years since the band was together, its members, gigs and spirit remain prominent in my mind. When I get together with other former members, we often recall events and adventures of our time together in the Nitecaps. Amazingly, such reminiscing still brings great happiness and delight to each of us. I feel very fortunate to have had experiences with the band that have truly become memories that have lasted throughout my lifetime.
After the Nitecaps
I became a member of the Nitecaps in 1965, and had been playing the organ for a few years prior to that. I was a fan of R&B/soul music and regularly listened to the radio stations playing that style of music. Playing with the Nitecaps was a good fit for me as we were a soul band. By the time I graduated from Abraham Lincoln High School in my hometown of San Jose, CA, I was no longer with the Nitecaps. I attended college and continued to play many music gigs throughout my college years, developing an interest in jazz.
After graduating from college, I continued to pursue a music career and worked a part-time day job and played as many music gigs as possible. I spent a period of time playing music full time and also traveled on the road.
Next was a job at a large music store where I worked full time and continued to play many music gigs. The following step in my evolution was returning to college where I studied law. Upon completion of my law studies program, I practiced corporate law as a paralegal, working in large major law firms and at a leading technology corporation's in-house legal department. Again, through the years I worked at my law profession I also played many music gigs as well.
Today, I'm retired from the law career and still continue to play music daily in my home music studio concentrating on practicing my jazz skills and recording. I also play an occasional music gig primarily with longtime friends.
Memories of Robert
By Jim Bruno
I've known Robert basically for most of my life.
Now Robert was not the first organ player for our group. We had a member before him named Tony Cirillo. Tony wasn't really in the group very long. He moved on and joined another group by the name of the Soul Seekers.
When Tony left, we needed a new organ player. I went to school with Robert and we knew each other from approximately the age of 8, but strangely, I didn't know that Robert played the organ.
The Nitecaps had played at a junior high school function that had lots of bands, and we were already pretty well known by then. We had not won all of the big battles yet but we were doing well, and we were the headliners at the gigs we were playing.
We already had a history and it was all good history because I really liked Rob. So when Tony left, we asked Rob if he wanted to join us, he said yes, and from then on, Robert was in the group.
One night, Robert was playing in another group and that was when I discovered that Robert was an organ player. Rob played that evening, but with a group was kind of a thrown together thing, and I think it was pretty much Bob's first experience playing in a band. Our group was much more experienced than the group Rob had played in that evening.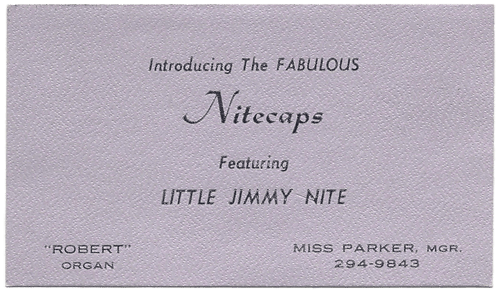 Rob had been playing organ at home in his living room, had taken some private lessons and was playing basic lead sheet arrangements of pop tunes of the time.
Again, please remember how young we all were – we were like 13 or 14 years old. Everything was a new experience to us. Even music!
One of the funny things I remember about Rob joining the group – and I'm not sure I can do it justice here in writing – was when we were trying to explain to Robert what the basic form structure was for a basic blues type song arrangement.
At the time, none of us really had music theory under our belts, so everything we did was by ear. We had our own way of communicating chord changes since we really didn't understand what a 145 chord progression was, so we sang the changes to Robert. I mean like in a musical – the whole band was singing to Robert the sound of that chord progression.
We sang a little song that went "first change – first change – second change – second change – first change – third change – second change – first change…' We all smile and remember that first rehearsal to this day.
Rob learned that song and many more, and was with us throughout all the great band battles days and, as with all of the guys, has remained a lifelong friend.
Of course, just like so many of the other guys, Rob went on to have many many musical experiences and to play in many bands, but like all the rest of us, the Nitecaps were the beginning.