Phil Salgado
Trumpet (1965 – 1969)
Memories of the Nitecaps
My memories of the Nitecaps start in 1964. I was 14 and a freshman at Samuel Ayer High School. During Christmas vacation, my best friend John Labum, whom I have known since I was 5 years old, asked me to go see James Brown at the Civic Auditorium. At the time, I had no idea who James Brown was. John explained that some of the guys from his band would be there.
As it turned out, this night would change my life in two important ways. First I was spellbound during the concert. I couldn't believe what I was hearing and seeing. The second thing was meeting the guys from the Nitecaps: Jim Bruno, John Diaz, Larry Lundsford, Butch and Bob Martin. Little did I know that just two months later I would be in the band as the trumpet player! Later that summer, the last piece of the band was added, Robert Vallelunga on the organ.
When I joined the band, they were transitioning from a surf band to a soul band. We actually had horn parts to "Walk, Don't Run" and "Pipeline." The band's love of James Brown, Wilson Pickett and the Temptations soon converted the Nitecaps to a soul, rhythm 'n blues show band. We devoted our lives to the band, practicing Monday through Thursday every week. We would first learn a song, play it over and over, then we would work out the steps for that song. Every song we did was choreographed. The horn section also sang the back up parts.
Next came the battle of the bands. It was such a big thing back in the 1960s! We worked very hard to prepare for each battle, to produce the tightest show we could.
In 1966, we won just about every battle we entered. The highlight was winning at the Watzit Club and the Teenage World's Fair at the Cow Palace where more than 100 bands competed! The Watzit was so special because it is where we and all our friends would go. It also gave us a recording session where we recorded "Something You Got" and "Now That You're Back!"
The band became the biggest thing in all of our lives. We had so much fun, even at band practice. For all of us, the chemistry just worked. We had such a blast playing at all the schools, nightclubs and fairgrounds. We got to meet so many people and when I say people, I mean girls!
I can still visualize us on stage opening up with "Shotgun" by Junior Walker and the All-Stars. John Diaz would kick it off on the drums and John Labum would come in with that famous sax solo. After being introduced, "Ladies and Gentlemen – the dynamic Little Jimmy Nite," Jim would enter dancing across the stage. The guitar players were doing the temptation walk, Bob Martin and I were going back and forth doing what we called the "Nitecap Shuffle," and Robert blending it all together on the organ. Needless to say, there was a lot going on. The show was fast paced with very few breaks between songs. This is the excitement I will always remember about the Nitecaps!
After the Nitecaps
After the Nitecaps, I continued to attend the College of San Mateo. Then having a low draft number in the lottery (27), I found myself at Fort Knox, Kentucky, for basic training. I stayed at Fort Knox to be trained as a tank crewmen. I have to say, I actually had a lot of fun driving tanks!
When I returned home, I started an apprenticeship as a meat cutter for Alpha Beta supermarkets. I went on to become a head meat cutter for the next 13 years. In 1985, I married my wife Pam. Two years later, I went to work for the Butchers' Union as a dispatcher and later became a business agent. In 1994, the Butchers' Union merged with the Retail Clerks Union to form the United Food and Commercial Workers Union. I eventually went on to become the secretary-treasurer of UFCW local 428. During this time I also served as chairman of the Meat Cutters Joint Apprenticeship Committee for Santa Clara, Monterey and Santa Cruz Counties. In addition, I was a board member of the Consumer Federation of California.
In 2007, after 35 years, I retired. Since then we have enjoyed spending time with our four children and six grandchildren. If I knew how much fun the grandkids were, I would have started with them first! I also enjoy camping, fishing, golfing and traveling. For the last few years I have taken up painting and thanks to Jim Bruno, I have picked up my horn and started playing again. I have played several gigs with Jim, Robert, Kevin and Eric; it brings back such wonderful memories. Although it's been over 51 years, the time I spent in the Nitecaps will always have special meaning to me. It gave me lifelong friends.
My memories of Phil Salgado
By Jim Bruno
It was very exciting night – 1st time I ever saw James Brown! That would also be the evening I would meet Phil for the first time. Our saxophone player, Johnny Labum, brought Phil to the James Brown concert with him.
What a night that was! I remember sitting out in the audience with Johnny Diaz, Bob and Butch Martin, and Larry Lunsford. The curtains were closed but we could hear the horn players tuning up and just that alone was exciting. The horns started playing – the horn section played for a while before James came out – and then the curtains opened and there was James Brown – THE James Brown. He was in his prime.
They introduced James and out he flew on one leg and literally it looked like he could fly – his physicality and dancing ability, well, what can I say, we're talking about James Brown.
So there we were, all watching James Brown – all of us around the age of 13 and 14, and I knew by the end of that night that I wanted to play soul music and not surf music, and I wanted to dance and jump around just like James Brown.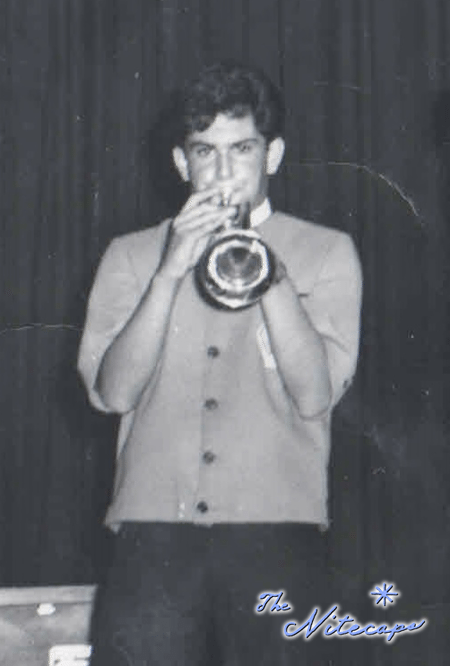 It was such an impressionable time and the biggest concert I have ever seen up to that point.
We already had two horns and the band by that point (Bob and Johnny), but after that concert Johnny Labum called me up and said, "Hey you know my friend Phil that you met? He's a trumpet player. Would you think about him auditioning for the group?" Well, after seeing James Brown's band, I was definitely ready for another horn player.
Johnny and Phil came over to my place. They pulled out their horns and started to play parts from some of our songs. Wow! Johnny had been working with Phil before he came to the audition, and it sure sounded good to me.
I got all excited and jumped on the telephone to call Johnny Diaz. I said, "Hey Johnny, check this out!" I pointed the phone at Phil and Johnny, and they started playing horn parts to our songs. Johnny told me to sign them up.
I was so excited that I wanted Phil to be in our band as soon as possible. They had come over on a Friday night and it just so happened that the very next day we were playing at the Wutzit club.
I said to Phil, "You're playing with us tomorrow night." I saw a confused look on Phil's face and he told me that he only knew four songs. I had Johnny and Phil come over Saturday morning. We practiced all day long to get Phil up to speed. I can only imagine how Phil's lip must have felt by the time he played that night, but we were all so young and excited, strong and full of energy – we pulled it off.
That's how Phil joined the Nitecaps and became a member.
Phil is another one of the really good dancers and as time went on he and Bob Martin were on fire when it came to doing dance steps on stage. They had great energy tons of soul – they were absolutely perfect for the band. It was these types of things that really would make us stand out whenever we would be in band battles.
Another interesting thing is that all of us – Johnny Labum, Phil, Bob, and myself – were all very close in height. That made us look really good visually on stage, because we didn't have one guy that was way taller or shorter than everybody else.
In so many ways, things just worked out perfectly for us to be the band that would win so many band battles. My memories of Phil Salgado are nothing but smiles.