Jim 'Jimmy Nite' Bruno
Vocals (1963 – 1969)
Memories of the Nitecaps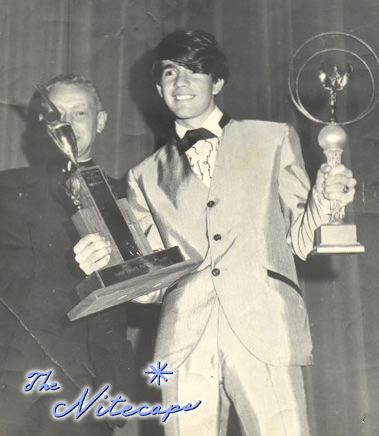 Well, the whole point of this website is about memories, and mine are truly wonderful ones. Being one of the founding members means that I can tell you everything about the band from day one.
When we first started, we were a 4-piece and then 5-piece surf combo band, ultimately growing from a 5-piece to 8-piece group within the first three years of being together. As a 4-piece band, we were drums, two guitars and bass. the fifth member was the addition of a saxophone player.
Those early years were lots of fun. Most of the performances where we played were what was known as pre-fair shows, leading up to performing at the county fair. We had a manager early on; she actually was the same person who booked all of the talent out at the county fair, which helped later as the band took off. These pre-fair shows were usually in places like shopping centers where they had set up stages (actually more like platforms) in the middle of the shopping malls and there would be a variety of different types of performers performing at the shows. Dancers, jugglers, comedians, and bands were the norm. It was a great way to start to gain the experience that we would need in the future to be better performers.
As time went on, we added more horn players and we went from a surf combo to the band that everybody remembers.
There were a lot of band battles going on at high schools, teen clubs, and nightclubs, and we competed in many of them. Honestly, we started winning almost from the first band battle we were in.
The first battle of the bands we competed in was at Samuel Ayr High School, and there were bands much older than us (and in my way of thinking, better), so really, we were just happy to be there on stage doing something, let alone thinking that we would actually win it. But, lo and behold, we won first place in that battle.
There were times that we came in second and third, but as we got better, there was one year where we won first place in every battle of the bands in which we participated. What an amazing year that was for all of us; we were all around 16 and 17 years old – only high school juniors and seniors.
It culminated in winning the Teenage World's Fair at the Cow Palace, and from that moment on, truly, our lives were never the same.
After winning that performance, we were booked every Friday and Saturday night for a year out.  We were playing at teen clubs, various school dances, junior proms, senior balls . . . even nightclubs that we weren't old enough to be in, all before we were 21.  We just had to go outside or stay in a room whenever we were on a break until we got a little older.
All of these memories have stayed with me. I have nothing but the fondest of memories of all the wonderful musical adventures I had and the lifetime friendships I made with everybody that was involved.  And I do mean lifetime friendships – we are all still friends to this day.
After the Nitecaps
Just a home town boy playing music all of these years . . . well, besides college and a small amount of time in the army during the Vietnam war.
After the Nitecaps split, I continued to perform and teach music. I opened a music school in the late 1970s that is still going strong today; I have taught and worked with so many talented people over the years, it has truly been a blessed life.
A lot happened after the Nitecaps  broke up. I was right out of high school, so I went to work in Carson City for the summer after high school graduation. Before that summer was over, I got a phone call from a manager who was trying to put together a group and wanted me to be part of that. Since we were a bunch a loose ends all being pulled together from different bands, so that's what we named the group: first it was Loose Ends, and from that it was later changed to Loose.
Although that group never reached the Nitecaps' popularity, we did well for a few years playing in lots of little country towns with a booking agent who made us his #1 band. More fun times.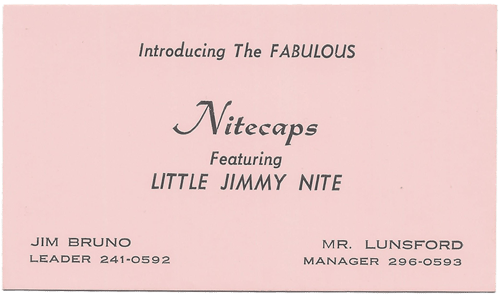 From there, I joined a group that became pretty well-known called Daddy O.
I was one of the original members of Daddy O; I started out as their keyboard player, but later left to join a group that was playing a lot of top 40 music.  Then I went back to Daddy O, this time as the lead guitar player, and stayed in Daddy O for three years before leaving to pursue a new band focused on playing a new musical instrument called the chapman stick.
The Stick Band, as it was called, became very well known in the 1980s. I was in that group for 12 years; there's going to be another website dedicated to all of the musical adventures of that group soon.
After The Stick Band split up, I went back to Daddy O for another five years, this time as their bass player before leaving for good.
I continued to sing and even did a year performing in a Rat Pack group as Frank Sinatra. That was a lot of fun, but I got tired of the traveling.
I'm still performing to this day, and as of late, I have been performing with Frank Vierra, lead singer of the Chosen Few. Frank and I have been performing Everly Brothers, Beatles, and some Ricky Nelson songs – basically, I guess you could call it Good Guy Rock.
Anyway, there is the update – that's what I'm doing musically now. I continue to teach in person and online – if you want to see me and what I've been up to as a teacher, go to totallyvocals.com. There is also a totallyvocals.com YouTube channel where you'll find lots of quick little instructional videos that I've put together.
Keep singing!