Johnny Diaz
Drums (1963 – 1969), Passed Away 2008
Memories of Johnny
By Jim Bruno
I've mentioned before that I'm one of the founding members of the Nitecaps; the other founding member that stayed with the band from its inception all the way through its wonderful battle of the bands days on on through its waning days was Johnny Diaz.
Right from the beginning, Johnny was an unnaturally gifted and talented drummer. Honestly, from the moment that I met him, he could play the drums. I don't know that he really took lessons; the closest thing to lessons, I think, that Johnny ever took was trading ideas and learning from some of the older guys in bands that became friends of ours.
Dave Daly, one of the people I've singled out as a mentor, was also a great drummer, and I know that Johnny learned some things from Dave, as Dave was a drum instructor and an all-around great musician. Another great drummer who was also a friend was Tommy Sosa. Tommy was in some of the bands that we really admired back in the day.
Tommy rode the symbols and played the drums in a very artsy kind of way. It was funky but it was also extremely heartfelt – he just really had a touch for his drumming. Johnny spent lots of time with both Tommy and Dave so I think Johnny's style really reflected the best parts of each of them. I always talk about Johnny's shuffle beat; nobody really knew how to shuffle quite like Johnny.
However Johnny learned, and from whomever, it worked. Regardless of anyone's input, Johnny was an all-around natural drummer and had that knack for putting the right beat to the song, and Johnny was another one of those naturally gifted guys who could listen to a record and figure out how to play the song right off of the recording.
Now, Johnny was my very, very good friend, and as I said, we started the group the together. Johnny was there during the whole surf band period of time. We all grew more musically during that county fair pre-fair performance period than we did for the first three years after the inception of the band, but as we moved into being an R&B band, doing a lot of James Brown covers, that's when Johnny really started to excel and to truly become my musical sound effects partner on stage.
I did a lot of James Brown-type antics on stage, screaming, dropping to my knees, doing the splits and jumping back up while throwing the microphone out towards the audience and pulling it back as I held onto the cord.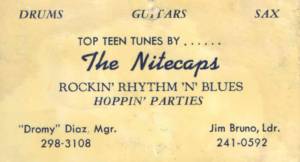 Johnny would watch me like a hawk and everything that I would do, he would do something with the drums to enhance the moves I was making on stage. He would do a snare roll into a kick drum cymbal blast as I fell my knees; meanwhile, he'd be keeping the beat going, doing it with a natural ease – it was hard for him to do, but it sure didn't look like it. I came to count on it and it really enhanced my performances in many ways.
You know the old saying goes that you never know what you have until after you lose it. I realized after I played in bands without Johnny being there that nobody really could do what he could do. I always knew he was great but when you're hanging out with your friends, and they can do all of these wonderful things, it starts to become the norm. It takes years to start to understand some of the amazing gifts that these guys had.
Johnny wasn't there for a certain period time. Johnny was drafted and went away to the Vietnam War. He served in Vietnam driving trucks into areas that were absolutely known to be dangerous and occupied by the Vietcong. When he got home, I spoke at length with him about his time in Vietnam.
He talked about a time that he was driving up a very winding dirt road and he heard shots. He just kept driving, but then he got back to the base, they found bullet holes going through the truck very close to where his head would've been. Johnny came back unscathed physically, but we all knew that it did take its toll on him in many psychological ways.
In his case, he wasn't a big mess when he got back, but like so many of the guys that came back from Vietnam, he sort of bottled some of that stuff up – he didn't talk about it much but you could see that it affected him.
I don't want to talk too much about his Vietnam experiences, but it is all part of the story. He's one of the heroes who went to war for us. He's always been one of my heroes and one of my very good friends.
Johnny was very funny and at times he could be agitating; he would really push it with his comedy. I always liked to kid him about that like we all do with friends, but I can tell you – Johnny was extremely loyal and always had my back and I his. Johnny Diaz is absolutely a very important part of the formula that made the Nitecaps what they were. You really couldn't ask for anybody more perfect on those drums than Johnny.
Johnny's Memorial Celebration
The day that Johnny passed away was the day that the heartbeat of the Nitecaps stopped, or at least that's how I've always felt. He was our drummer, our backbeat, and he was always fun and funny. He drove the band with a steady pulse that has never been fully replicated.
Johnny's family had a memorial service, and in addition to all of Johnny's family, any of the Nitecaps guys that were local came as well. Johnny's younger brother, Mike Diaz (a very talented musician in his own right), was very gracious and asked me if I would like to sing at the Memorial service.
I did, and Mike backed me up on the piano – understandably, we were all very sad and sorry to have lost Johnny. The service itself was quite nice and what you would expect; different people got up and shared memories and thoughts about Johnny. We gathered, reflected, and mourned the loss of our beloved friend.
Not all the guys could make it to Johnny's memorial service, so at a later date, the Nitecaps came together again to celebrate his passing. It was a wonderful gathering full of memories, storytelling and music.
Johnny was such an integral part of the Nitecaps and was truly one of the best friends I have ever had. I miss him dearly.